Lainie Lovett's passions, in no particular order, are her son and daughter, the fourth-grade class she teaches, and the Rockettes, the recreational league women's soccer team in

the sleepy Boston suburb of Rockford, Massachusetts. Yet somehow, mysteries just keep dropping into her lap. Fortunately, she's smart, she's got a good sense of humor, and she knows how to kick a soccer ball—traits that come in handy as she tries to solve these mysteries.
Read all about the Lainie Lovett Mysteries here.

 
The Magic Jukebox sits in the Faulk Street Tavern in the quiet seaside town of Brogan's Point, Massachusetts. No one knows what classic rock songs will come out of
the jukebox when a coin is inserted, but every now and then, the jukebox will play a song that casts a spell on two bar patrons—a song that will change their lives and open their hearts to love.
Read all about the Magic Jukebox books here.
The Daddy School
Judith Arnold's popular series featuring men learning about the joys and challenges of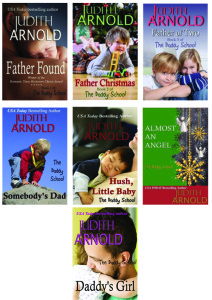 fatherhood—and also about the joys and challenges of love.
Read all about the Daddy School books here.
Loretta D'Angelo doesn't want to get married. Being dumped by her fiancé just months before her wedding was fine with her. She loves her life as a single woman in New York City, indulging in gourmet ice-cream, getting the occasional mud-mask facial, and working for a tacky talk show that specializes in screaming and scrapping among its philandering guests. If only she could tune out her pushy family and their constant match-making attempts.
Josh Kaplan has no interest in getting married, either, although maybe he ought to. He's been with his girlfriend Melanie for years, but for some reason he just hasn't felt the urge to pop the question. He's busy fighting for tenants' rights and playing chess with his elderly friend Solly, who's got women problems of his own. Melanie is busy, too, although what she's busy with, Josh isn't sure.
When Loretta's job suddenly hinges on her being hooked up with a blind date on the show, Josh is the ideal foil. He has no more interest in a romance than she does. He's got Melanie. And if Loretta pretends he's her boyfriend, her family will get off her case.
What could possibly go wrong?
THE FIXER UPPER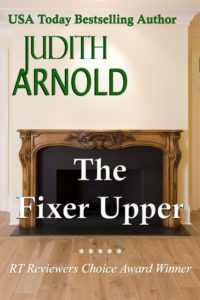 Libby Kimmelman is overwhelmed. As the admissions director at an exclusive Manhattan private school, she's awash in bribes from parents desperate to get their offspring into the school. Her apartment is going co-op, and she can't afford it without financial help from her obnoxious ex-husband. Her thirteen-year-old daughter has discovered boys, music, and rule-breaking. Her sister-in-law is determined to set her up with a boring guy from the local synagogue.
And then there's Vermont transplant Ned Donovan, whose smart, scrappy son longs to attend Libby's school. Ned's a widower, a carpenter, sexy as sin—and wild about the fireplace in Libby's living room. Ned wants to fix up her apartment. Libby believes he could fix up her life…if only she could be sure that his love isn't simply the biggest, most dangerous bribe she's ever received.
Winner of the RT Reviewers Choice Award for best contemporary romance of the year.
THE WOMAN DOWNSTAIRS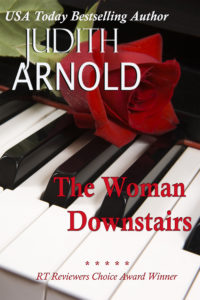 Ex-cop Alec Fontana may not be able to patrol the streets of Boston anymore, but when his aunt, a college president, asks him to investigate whether an esteemed professor is preying sexually on his students, he's up to the task. He's a city boy, and a few weeks in a college-owned apartment near the bucolic campus would be a nice change of pace.
But the woman in the apartment directly below his is a distraction. Lauren Wyler is beautiful and mysterious. Through the floor, Alec can hear her playing the piano like a virtuoso—until her performance turns into a painful mess of mistakes. How can someone with so much talent play so poorly? With each note, Alec's obsession with his downstairs neighbor grows. Will that obsession heal Lauren or wound her beyond repair?
Winner of RT Magazine's Reviewers Choice Award.
HOPE STREET
Curt and Ellie fell in love as college students, in a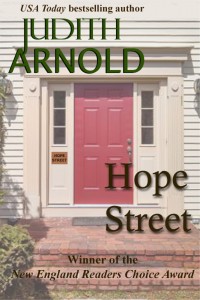 grungy apartment on Hope Street. When Curt asked Ellie to marry him, he promised her that as long as they were together, they would always live on a metaphorical "Hope Street." And for many years, they did dwell in their own love-filled neighborhood of hope. Then a tragedy shattered their family. Exiled from Hope Street, they have decided to end a marriage that is already dead.
Unaware of their parents' plans for divorce, their children arrange for a romantic night for their parents at a charming country inn. As Curt and Ellie venture into that night together, they are forced to reconsider everything that once was so right between them, and everything that has gone so wrong. Is it possible that their love still exists? Can they ever forgive each other? Is it possible to return to Hope Street?
HOPE STREET won the New England Readers Choice Award for the best long contemporary romance of the year.
STAR-CROSSED
When Gillian Chappell and Owen Moore meet by chance in Verona, Italy, their relationship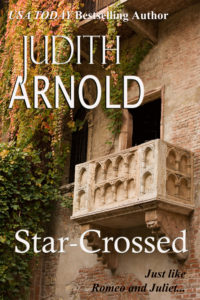 seems as doomed as that of the city's most famous tragic lovers, Romeo and Juliet. Little do Gillian and Owen know that the ghosts of Romeo and Juliet are guiding them, hoping to steer them to the happy ending Romeo and Juliet had dreamed of for themselves.
But like Shakespeare's hero and heroine, Gillian and Owen are star-crossed, forced to deal with historic feuds, meddlesome friends and relatives, and their own irrational longing for each other. From Verona, Italy to Verona, New Jersey, Owen fights for everything Gillian's family has always fought against, and Gillian tries to defend her beloved father while her heart cries out for Owen's love. Romeo and Juliet may have brought them together, but the stars alone will determine their fate.
BEST FRIENDS
Lonny Reed and Samantha Janek became best friends in college. She was a chubby, insecure scholarship student who harbored a secret crush on him, but he loved her only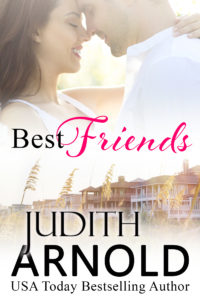 as the closest, most trustworthy friend he'd ever had—a buddy who'd offer a sympathetic ear as he fell in and out of love with breathtaking frequency. Although she adored Lonny, Sammy knew that his lovers were always temporary. Friendship was forever, and she wanted forever with him.
Still best friends years after college, Lonny invites Sammy to stay with him at his fixer-upper beach house while she recuperates from being dumped by her longtime boyfriend. He'll introduce her to friends, set her up on blind dates, get her back on her feet. The only problem is, she's no longer a chubby, insecure scholarship student. She's smart, accomplished and beautiful. And all of a sudden, Lonny wants to be more than friends.
With Lonny, lovers don't last. Samantha knows that becoming his lover means risking the loss of his friendship. Can they be friends—and lovers—forever?
 GOING BACK
Eight years ago, Daphne Stoltz and Brad Torrance wound up in bed together. She was reeling from her old boyfriend's betrayal, he was bored, and they'd both had a bit too much to drink. Their encounter was quick, bad and embarrassing, something they'd both prefer to forget.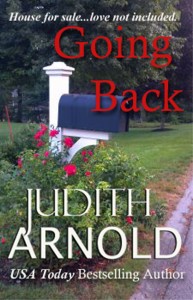 They can't forget it, because mutual friends have thrown them together. Brad's job transfer to New York City places him in Realtor Daphne's region, and their college classmates insist that Brad should use Daphne to help him find a house. Stuck together on this mission, they discover that they actually like each other. 
They could never be lovers, though, because Brad startlingly handsome and Daphne is homely. They just don't match. But they could be friends—true, close friends—if only they can figure out a way to undo the mistake from their past. All they'd have to do is go back and make things right.
 THE APRIL TREE
A tour de force about life, love, loss…and friendship.
Reach out, hold tight, stand up, move forward.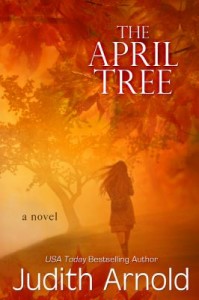 One life destroyed. Four others irrevocably shattered. A senseless accident causes the death of April Walden and plunges her three best friends and a young man into a devastating search for comfort, purpose, and inspiration. Becky wraps herself in a protective cloak of obsessions, performing anxious rituals at the base of the red maple tree under which April died. Elyse dives into a high-risk life, trying to honor April by doing everything April died too young to experience. Florie turns to fundamentalist Christianity as a wall that might shield her from reality. Mark spirals downward into substance abuse and self-loathing, until April's three friends find new meaning for their lives by trying to save him.
Goodbye To All That
Being the middle child is never easy, but thirty-six-year-old Jill Bendel is about to find out just how hard that job is when her mother throws away her sensible pumps, packs up her collection of classical music and runs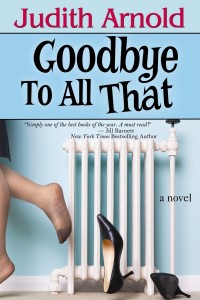 away from home.
Longtime wife and mother Ruth Bendel loves her family but hates her life. Husband Richard doesn't even know how the steam iron works, let alone how a woman works. When Ruth's last nerve snaps, she finally does what she's wanted to do so many times before—she gets an apartment, a job, a new life and new friends.
How will her pampered family survive?
Who will take care of her son Doug's daughters when he flies off for a romantic week with his wife? How can youngest daughter Melissa contemplate getting pregnant now that she's the child of a broken home? How is Jill going to juggle the demands of her own marriage, her kids, her siblings and her career while simultaneously trying to get her parents to reconcile? Why is it that when things fall apart, everyone expects Jill to put them back together?
Safe Harbor
Barefoot In the Grass
A groundbreaking story about a woman reclaiming her life after treatment for breast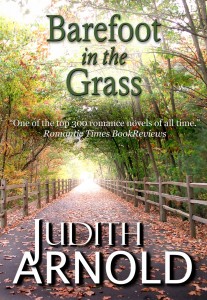 cancer and a man learning the true meaning of beauty and the true power of love. After two years of treatment, Beth Pendleton leaves her high-stress job in New York to join a quiet law practice in sleepy Devon, New Hampshire. She buys a house, adopts a dog and tries to figure out how to live the rest of her life as a woman with one breast.
Construction company owner Ryan Walker is immediately attracted to the beautiful newcomer, but although the chemistry between them is strong, she seems determined not to let him get too close. He knows she's hiding something—and once he learns what it is, he isn't sure he's strong enough to handle the truth about her. Beth has the courage to have endured brutal medical treatment and embraced life. Does Ryan have the courage to love a woman whose body is scarred and who may still be shadowed by death?
Named one of the 300 best romance novels of all time by Romantic Times Magazine.
Cry Uncle
With a hit man after her, Seattle architect Pamela Hayes needs to hide, and she runs as far as she can: to steamy Key West., Florida. Jonas Brenner, a local bar owner, is about to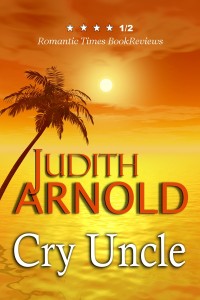 lose custody of his orphaned five-year-old niece—unless he can convince the courts that he's a responsible father. What he needs is a prim and proper wife who will create the illusion that his niece is being raised in a stable environment. What Pam needs is a new identity. Joe offers her a deal: if she marries him and takes his name, no Pacific Northwest hit man is going to find her. In return, she can pose as Joe's respectable wife, dutifully caring for his wild-child niece. Of course, this will be a marriage in name only. No sex. No emotions. No love. Which, once Pam and Joe move in together and the sparks begin to fly, is easier said than done.
"When a classy architect joins in a marriage of convenience with a slightly scruffy bartender to hide from a hit man out to kill her, frustration runs high, making both want to CRY UNCLE and get on with the loving. Judith Arnold is a perennial favorite whose keen wit and way with mystery always hits the mark.****½"—RT Book Reviews
Change of Life
Lila Chapin feels invisible. A devoted wife and mother of two, she sacrificed her  career as her husband's job moved the family around the country. Now he's swiftly climbing the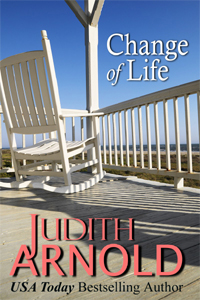 corporate ladder while she takes care of him and their sons. She's appreciated at the soup kitchen where she volunteers, but at home she's taken for granted. She realizes just how true this is when her husband and children forget her fortieth birthday.
She withdraws a chunk of money from the bank and takes off. This will be her birthday present to herself: a month without her family, a month in which she puts herself, her needs and her whims first.
Ken Chapin loves his wife. Yes, he's been neglecting her lately as he vies for a senior position at the high-tech firm where he works, but he's always assumed they were a team, working side by side to make their family happy. Yet what kind of team is it when Ken gets all the glory and Lila does all the vacuuming? Her disappearance forces him to reconsider the direction their lives have taken and just how much he needs her. But has his insight arrived too late to save their marriage?
Comfort And Joy
In the season of miracles, the greatest miracle of all is love.
For Robin Greer, Christmas is about tradition and family. After her army-brat childhood, she wants nothing more than to plant solid roots and create a stable, permanent home for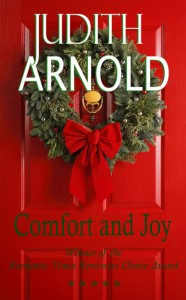 her young son, Philip. Christmas is a time to celebrate that home, and she and Philip celebrate in style, decorating their house, baking treats and listening to holiday music.
Jesse Lawson's view of the holiday is quite the opposite. Growing up in an oppressively pious family, he has rejected religion. To him, Christmas is about hypocrisy and commercialism. A legal aid attorney, he can't enjoy the spirit of the season when his inner-city clients are facing eviction in the middle of a cold New England winter.
Yet he can't resist Robin and her open-hearted embrace of all things Christmas. And she can't resist this thoughtful, questioning, complex man who seems to understand the true meaning of the holiday better than she does.
Winner of the Romantic Times Reviewers Choice Award.
Holding Hands
Meredith Fischer's widowed mother is starting a new romance. Her daughter is enjoying an exuberant social life. But Meredith's marriage is comatose and barely breathing. She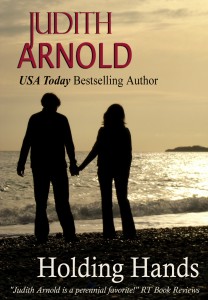 still loves her sexy husband, but he doesn't see her, doesn't hear her, and may be involved with one of the cute young students at the college where he teaches. She can either pull the plug on her marriage or try to revive it, a hard choice to make when her insecurities, a fickle Mother Nature and a dog stand in her way.
Chocolate Kisses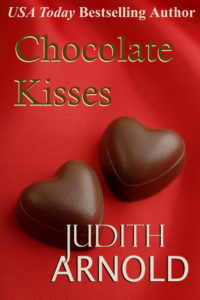 Claudia Mulcahey has one day—Valentine's Day—to cater the biggest social event Glenwood, Connecticut has seen in years. If she succeeds, her catering business, Fantasy Feasts, will flourish. If she fails, she may go bankrupt. But a lot can go wrong in one day: car accidents, spilled dip, crushed cakes…and the distraction posed by Ned Wyatt, sexy bachelor brother of the party's shrewish hostess. Once he gets a taste of Claudia's homemade chocolate kisses, he wants Claudia catering only to him.
Survivors
Twenty-two years after coming home from Vietnam, Paul Tremaine is determined to erect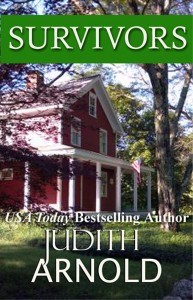 a memorial to the comrades he left behind. Bonnie Hudson, the widow of a famous antiwar activist, doesn't want to see that war glorified. Both Bonnie and Paul are survivors of a painful past. Can love heal their scars so they can make peace with that past and face the future together?
One Good Turn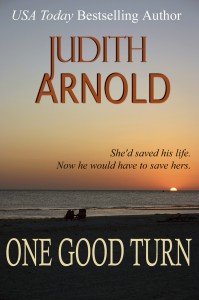 When Luke met Jenny, he was lost and struggling. Her optimism, trust and love gave him the courage to face his demons and slay them. Then she vanished from his life. Seven years later, she reappears—only she's not the same cheerful idealist he'd fallen in love with. Can he rescue her the way she'd rescued him? Can he give her the strength to slay her own demons?
Trust Me
While Chloe Verona was out on a failed blind date with Will Turner, her brother stole her most prized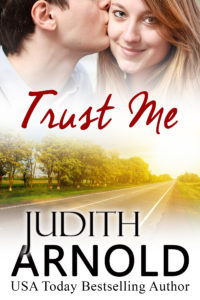 possession. She has to get it back. Will thinks Chloe is a flake, but he loves adventure, and her long, sexy legs turn him on, so he agrees to help her. What begins as a disastrous blind date winds up being an equally disastrous road trip as Will and Chloe try to survive their growing attraction, their clashing personalities, and the vicissitudes of a cross-country drive in Will's rattletrap van. Just how much will Chloe endure to reclaim her stolen treasure? And how much will Will endure to get Chloe into his bed?
A> Loverboy
A cult classic when it was published in 1991, A>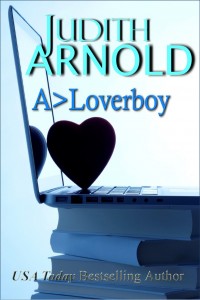 LOVERBOY imagines the start of the 21st century. Lucy Beckwith and Jim Kazan fall in love via computer in a world of superlight vehicles, left-side food and tumultuous earthquakes. Many of the book's predictions about the year 2000 came true–including the fact that lovers can still surmount obstacles and find happiness.
Follow the Sun
LA Post Reporter Sandra Garcia wants to write solid, meaningful news stories, but her editor always hands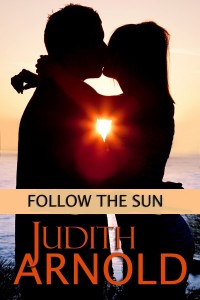 her feel-good puff pieces—for instance, a profile of Rafael Perez, the founder of Aztec Sun. But things at the movie production company are not what they seem, and Rafael is clearly hiding something.
Rafael Perez spent his youth as a street gang member, and he's not proud of his background. He will do whatever it takes to keep the nosy reporter from the Post from revealing who he really is and where he's come from, even as his second-in-command courts Sandra and tries to get her to publicize the studio's first big-budget production, which stars a beautiful TV star trying to make the leap to movies.
Rafael can hold things together and keep his secrets buried–until his pretty blond star turns up dead. Now Sandra has a murder story to report. And her investigative skills might destroy Rafael and the life he's created for himself.
One Whiff of Scandal

While enjoying breakfast in the restaurant of a dive motel on the outskirts of Granby, newspaper reporte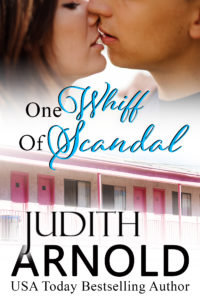 r Jill Bergland sees the city's upstanding mayor emerge from one of the rooms just a few steps ahead of a scarily handsome young man. What was the mayor doing in the town's infamous no-tell motel with a gorgeous blond stud? If she finds out, she can imagine a front page by-line for herself.
She's not the only reporter on the story. Griffin Parker, a star reporter for a rival newspaper, has been chasing that handsome young man—a pimp reputed to be blackmailing wealthy johns. When Griffin's path crosses with Jill, they both know they need to keep their distance in order to get their stories into print. Both of them want to get the story first. Both of them are ambitious enough to sabotage their competition. But the real headline is that they're falling in love—and how can you love someone you can't trust?
Found: One Wife
Maggie Tyrell believes in happy endings. Her brothers run Tyrell Investigative Services and spend their days getting the dirt on cheating spouses and scam artists, but Maggie wants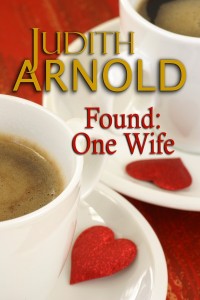 none of that. She sets up her own agency, "Finders, keepers," to locate lost lovers and bring them together.
Noah Davis's lover is lost. He and Sisela agreed to marry, but before they took that step, they decided to spend one year apart, pursuing their separate dreams. Noah wanted to travel around the world. Sisela wanted to see if she could make it as a popular singer. A year later, he's ready to settle down and she's nowhere to be found.
Maggie promises to find Sisela—and discovers that happy endings aren't necessarily as easy to find as lost lovers. For one thing, Sisela is no longer the woman she was when Noah proposed to her. For another, Maggie realizes she's falling in love with Noah. Her job is to create happy endings for others. Does that mean she can never have her own happy ending?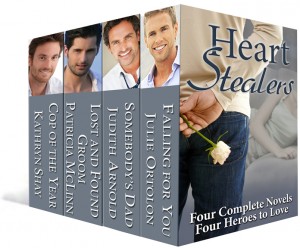 Heart Stealers
Let best-selling authors Kathryn Shay, Patricia McLinn, Judith Arnold and Julie Ortolon take you on the life-changing journeys of four men who find their soul mates in four very strong women. Four complete novels in one volume.