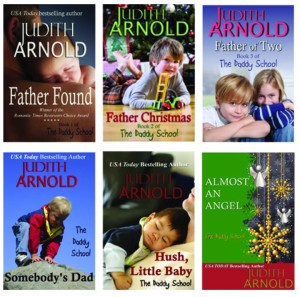 Judith Arnold's popular series featuring men learning about the joys and challenges of fatherhood—and also about the joys and challenges of love.
Read all about the Daddy School books here.
BEST FRIENDS
Lonny Reed and Samantha Janek became best friends in college. She was a chubby, insecure scholarship student who harbored a secret crush on him, but he loved her only as the closest, most trustworthy friend he'd ever had—a buddy who'd offer a sympathetic ear as he fell in and out of love with breathtaking f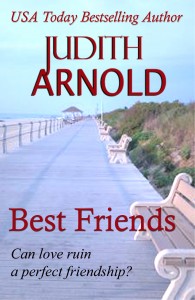 requency. Although she adored Lonny, Sammy knew that his lovers were always temporary. Friendship was forever, and she wanted forever with him.
Still best friends years after college, Lonny invites Sammy to stay with him at his fixer-upper beach house while she recuperates from being dumped by her longtime boyfriend. He'll introduce her to friends, set her up on blind dates, get her back on her feet. The only problem is, she's no longer a chubby, insecure scholarship student. She's smart, accomplished and beautiful. And all of a sudden, Lonny wants to be more than friends.
With Lonny, lovers don't last. Samantha knows that becoming his lover means risking the loss of his friendship. Can they be friends—and lovers—forever?
GOING BACK
Eight years ago, Daphne Stoltz and Brad Torrance wound up in bed together. She was reeling from her old boyfriend's betrayal, he was bored, and they'd both had a bit too much to drink. Their encounter was quick, bad and embarrassing, something they'd both prefer to forget.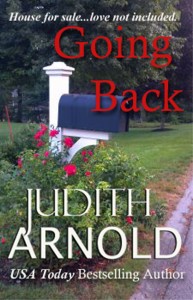 They can't forget it, because mutual friends have thrown them together. Brad's job transfer to New York City places him in Realtor Daphne's region, and their college classmates insist that Brad should use Daphne to help him find a house. Stuck together on this mission, they discover that they actually like each other. 
They could never be lovers, though, because Brad startlingly handsome and Daphne is homely. They just don't match. But they could be friends—true, close friends—if only they can figure out a way to undo the mistake from their past. All they'd have to do is go back and make things right.
THE APRIL TREE
A tour de force about life, love, loss…and friendship.
Reach out, hold tight, stand up, move forward.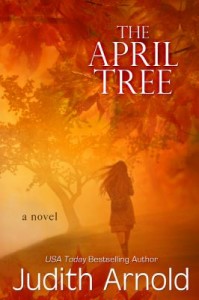 One life destroyed. Four others irrevocably shattered. A senseless accident causes the death of April Walden and plunges her three best friends and a young man into a devastating search for comfort, purpose, and inspiration. Becky wraps herself in a protective cloak of obsessions, performing anxious rituals at the base of the red maple tree under which April died. Elyse dives into a high-risk life, trying to honor April by doing everything April died too young to experience. Florie turns to fundamentalist Christianity as a wall that might shield her from reality. Mark spirals downward into substance abuse and self-loathing, until April's three friends find new meaning for their lives by trying to save him.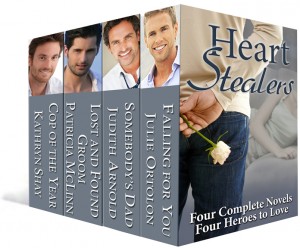 Heart Stealers
Let best-selling authors Kathryn Shay, Patricia McLinn, Judith Arnold and Julie Ortolon take you on the life-changing journeys of four men who find their soul mates in four very strong women. Four complete novels in one volume.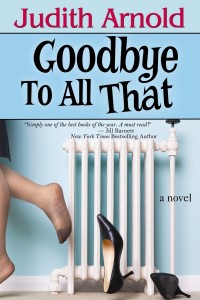 Goodbye To All That
Being the middle child is never easy, but thirty-
six-year-old Jill Bendel is about to find ou
t just how hard that job is when her mother throws away her sensible pumps, packs up her collection of classical music and runs away from home.
Longtime wife and mother Ruth Bendel loves her family but hates her life. Husband
Richard doesn't even know how the steam iron works, let alone how a woman works. When Ruth's last nerve snaps, she finally does what she's wanted to do so many times before—she gets an apartment, a job, a new life and new friends.
How will her pampered family survive?
Who will take care of her son Doug's daughters when he flies off for a romantic week with his wife? How can youngest daughter Melissa contemplate getting pregnant now that she's the child of a broken home? How is Jill going to juggle the demands of her own marriage, her kids, her siblings and her career while simultaneously trying to get her parents to reconcile? Why is it that when things fall apart, everyone expects Jill to put them back together?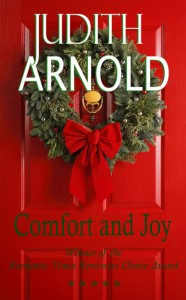 Comfort And Joy
In the season of miracles, the greatest miracle of all is love.
For Robin Greer, Christmas is about tradition and family. After her army-brat childhood, she wants nothing more than to plant solid roots and create a stable, permanent home for her young son, Philip. Christmas is a time to celebrate that home, and she and Philip celebrate in style, decorating their house, baking treats and listening to holiday music.
Jesse Lawson's view of the holiday is quite the opposite. Growing up in an oppressively pious family, he has rejected religion. To him, Christmas is about hypocrisy and commercialism. A legal aid attorney, he can't enjoy the spirit of the season when his inner-city clients are facing eviction in the middle of a cold New England winter.
Yet he can't resist Robin and her open-hearted embrace of all things Christmas. And she can't resist this thoughtful, questioning, complex man who seems to understand the true meaning of the holiday better than she does.
Winner of the Romantic Times Reviewers Choice Award.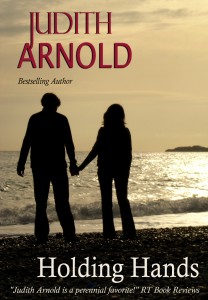 Holding Hands
Meredith Fischer's widowed mother is starting a new romance. Her daughter is enjoying an exuberant social life. But Meredith's marriage is comatose and barely breathing. She still loves her sexy husband, but he doesn't see her, doesn't hear her, and may be involved with one of the cute young students at the college where he teaches. She can either pull the plug on her marriage or try to revive it, a hard choice to make when her insecurities, a fickle Mother Nature and a dog stand in her way.
Claudia Mulcahey has one day—Valentine's Day—to cater the biggest social event Glenwood, Connecticut has seen in years. If she succeeds, her catering business, Fantasy Feasts, will flourish. If she fails, she may go bankrupt. But a lot can go wrong in one day: car accidents, spilled dip, crushed cakes…and the distraction posed by Ned Wyatt, sexy bachelor brother of the party's shrewish hostess. Once he gets a taste of Claudia's homemade chocolate kisses, he wants Claudia catering only to him.
Order from Amazon Kindle Store
Order from Barnes & Noble Nook Store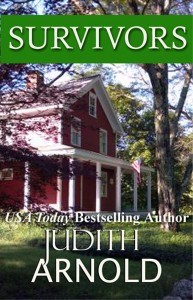 Survivors
Twenty-two years after coming home from Vietnam, Paul Tremaine is determined to erect a memorial to the comrades he left behind. Bonnie Hudson, the widow of a famous antiwar activist, doesn't want to see that war glorified. Both Bonnie and Paul are survivors of a painful past. Can love heal their scars so they can make peace with that past and face the future together?
Order from Amazon Kindle Store
Order from Barnes & Noble Nook Store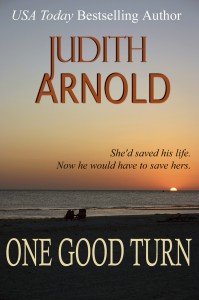 One Good Turn
When Luke met Jenny, he was lost and struggling. Her optimism, trust and love gave him the courage to face his demons and slay them. Then she vanished from his life. Seven years later, she reappears—only she's not the same cheerful idealist he'd fallen in love with. Can he rescue her the way she'd rescued him? Can he give her the strength to slay her own demons?
Order from Amazon Kindle Store
Order from Barnes & Noble Nook Store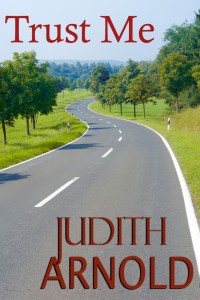 Trust Me
While Chloe Verona was out on a failed blind date with Will Turner, her brother stole her most prized possession. She has to get it back. Will thinks Chloe is a flake, but he loves adventure, and her long, sexy legs turn him on, so he agrees to help her. What begins as a disastrous blind date winds up being an equally disastrous road trip as Will and Chloe try to survive their growing attraction, their clashing personalities, and the vicissitudes of a cross-country drive in Will's rattletrap van. Just how much will Chloe endure to reclaim her stolen treasure? And how much will Will endure to get Chloe into his bed?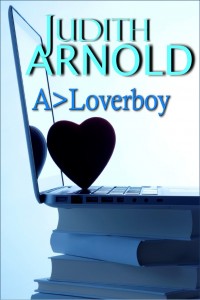 A> Loverboy
A cult classic when it was published in 1991, A> LOVERBOY imagines the start of the 21st century. Lucy Beckwith and Jim Kazan fall in love via computer in a world of superlight vehicles, left-side food and tumultuous earthquakes. Many of the book's predictions about the year 2000 came true–including the fact that lovers can still surmount obstacles and find happiness.
Order from Amazon Kindle Store
Order from Barnes & Noble Nook Store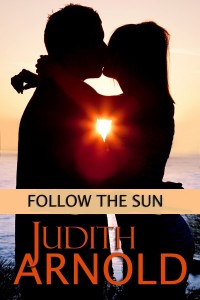 Follow the Sun
L.A. Post reporter Sandra Garcia is assigned to write a puff piece about Rafael Perez, who escaped the streets of East L.A. to become a successful film producer. But did he really escape? The closer Sandra gets to Rafael, the more he has to hide. What's going on with the beautiful Anglo starlet he's hired to appear in his new film? Why is his best friend just a bit too friendly toward Sandra?
Sandra is tired of writing puff pieces. She wants an exciting story with a big byline. And Rafael wants her…even though she might just destroy him.
Order from Amazon Kindle Store
Order from Barnes & Noble Nook Store
Jill Bergland and Griffin Parker are reporters chasing the same scandalous story for competing newspapers. How can they trust each other when they're trying to beat each other into print? And how can they beat each other into print when they're falling in love?
Order from Amazon Kindle Store
Order from Barnes & Noble Nook Store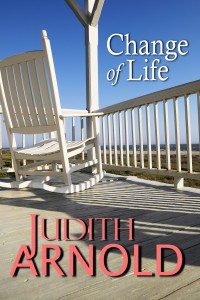 Change of Life
When Lila Chapin's husband and sons forget her fortieth birthday, she withdraws a chunk of money from the bank—her birthday present to herself—and disappears. Ken Chapin loves his wife—but he's been neglecting her as he claws his way up the corporate ladder. Finally arriving on the top rung, he realizes his success is meaningless without Lila by his side. He and his sons are going to have to woo her back.
Order from Amazon Kindle Store
Order from Barnes & Noble Nook Store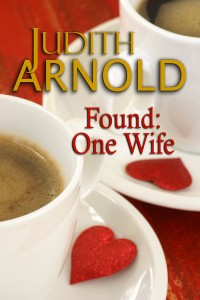 Found One Wife
Maggie Tyrell believes in happy endings. A detective by training, she starts "Finders, Keepers," an agency devoted to bringing lost lovers together. Unfortunately, the lost lover she locates for her first client, Noah Davis, is now married to a billionaire. Even worse, Maggie realizes she's falling in love with Noah.
Order from Amazon Kindle Store
Order from Barnes & Noble Nook Store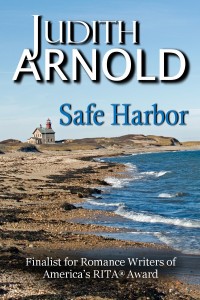 Safe Harbor
Kip and Shelley spend their summers together on Block Island. A tragedy in Shelley's life ends their friendship. A tragedy in Kip's brings them back together. Can the magic of the island teach them how to trust and how to love? Safe Harbor was a finalist for Romance Writers of America's prestigious Rita ® Award.
Order from Amazon Kindle Store
Order from Barnes & Noble Nook Store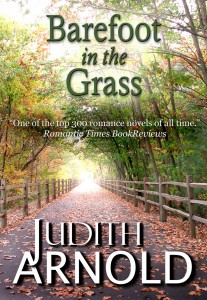 Barefoot in the Grass
Originally published as a Showcase title by Harlequin Books, Barefoot in the Grass is a groundbreaking story about a woman reclaiming her life after treatment for breast cancer and a man learning the true meaning of beauty and the true power of love. Named one of the 300 best romance novels of all time by RT Book Reviews…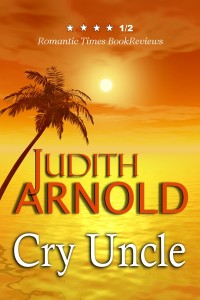 Cry Uncle
Pam Hayes needs a new identity. Joe Brenner offers her one if she'll be a monther-figure for his wild niece. Originally published by Harlequin Books.
"When a classy architect joins in a marriage of convenience with a slightly scruffy bartender to hide from a hit man out to kill her, frustration runs high, making both want to CRY UNCLE and get on with the loving. Judith Arnold is a perennial favorite whose keen wit and way with mystery always hits the mark."
— RT Book Reviews
Order from Amazon Kindle Store
Order from Barnes & Noble Nook Store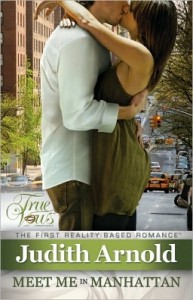 Meet Me In Manhattan
Ted Skala and Erika Fredell were the perfect New Jersey high school sweethearts. Like many teens, Ted and Erika spend plenty of time in parked cars under the stars, but there was so much more between them than the chemistry that ignited their courtship, and Ted couldn't imagine a life without Erika. By graduation he was ready to get engaged. Erika, however, was ready to spread her wings, and faraway she flew to college. She broke his heart. She sailed the world.
Fast forward sixteen years. Living in Manhattan, Erika successfully climbs the corporate ladder but her love life stinks. Ted is also living the life of a successful businessman in Manhattan, and he's involved in a serious relationship.
Problem is, he still can't get Erika out of his system. When fate intervenes and their paths cross, the result is emotionally explosive and that old black magic is back with the force of a super nova. But Erika once ravaged his heart: How can Ted ever trust her again? And now that he's seriously involved with another woman, how can Erika hope for a second chance with the man she never should have let go?
Meet Me In Manhattan is a classic love story that is told as only Judith Arnold can tell it. With a deep grasp of the complexities of the human heart, this acclaimed author explores Ted Skala and Erika Fredell's compelling true story of a lost love unexpectedly found again.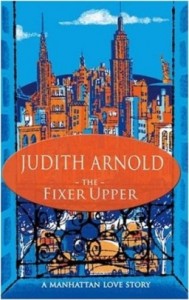 Still Available
The Fixer Upper
Winner of the Reviewers Choice Award for Best Contemporary Romance of the Year from RT Book Reviews
As the admissions director for one of Manhattan's finest private schools, Libby Kimmelman is overworked, underpaid—and totally overwhelmed by flowers, chocolates and other bribes from zealous parents determined to enroll their little Einsteins. The one parent who does intrigue her is Ned Donovan. Vermont-rugged, carpenter-sexy, he shows up in her office trying to explain how his ten-year-old genius son applied to the school without his knowledge.
A widower with a lust for her marble fireplace, Ned is the kind of man whose natural earthiness seems so deliciously sexy in the city. His knee-melting offer to strip her floors almost makes her forget her annoying ex, her exasperating teenage daughter and the fact that she is about to lose her magnificent, rent-stabilized New York apartment. But is this building renovator after his son's admission, her old apartment…or, incredibly, her?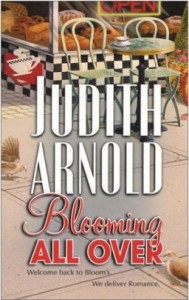 Still Available
Blooming All Over
Publisher's Weekly says: "…simple and scrumptious…this novel has all the makings of a memorable summer read."
For the complete Publisher's Weekly review click here. –>
There may be a bigger deli than Bloom's somewhere in the world, but there's certainly none better! That doesn't mean it's the only place Susie Bloom ever wants to dine, though. Writing The Bloom's Bulletin is a fun sideline, but Susie is keeping her options open…not just with the store but also with tall, blond and handsome Casey, the ever-so-sexy Bloom's bagel master. Casey is pushing for marriage, but Susie has her qualms. Can a girl from Manhattan settle down with a guy from Queens?
Susie's cousin Rick is an aspiring filmmaker, with his own recipe for success. After persuading the family to fund a Bloom's infomercial, he taps Susie to be the leading lady. But while Susie is filming in New England and aspiring to win at Cannes, Casey quits Bloom's to open his own specialty bakery. Not only that, he appears to have another woman in his life. It's time for Susie to decide on her priorities. Does she want canapés in Cannes, or a bagel and lox right here in New York?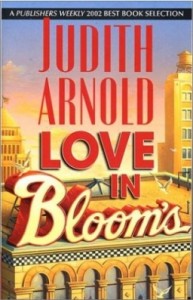 Still Available
Love In Bloom's
Named one of the best mass market books of the year by Publisher's Weekly.
The Blooms have run the family deli for generations, and Grandma Ida isn't about to let a culinary mishap change that. So when her son, the president, meets an untimely demise, the iron-willed matriarch appoints her granddaughter Julia to the top seat. Nobody is more surprised than Julia. But no one says no to Ida. And once Julia's inside the inner sanctum of Bloom's, family rivalries, outrageous discoveries and piles of delicious food begin to have their way with her.
Will Julia's mother find out why her husband cared more about the business than about her? Is Uncle Jay, who married "The Bimbette," stealing brunch for a hundred every week? Will sister Susie, the bohemian poet and undiscovered artist, find true love with the gorgeous blond bagel maker? Is the strudel weakening Julia's resistance to sexy journalist Ron Joffe—a man she suspects is after some of Bloom's deeper secrets? And will Julia discover happiness reconnecting with a forgotten passion, the blessing of family…and good food?
Life at Bloom's is a veritable feast.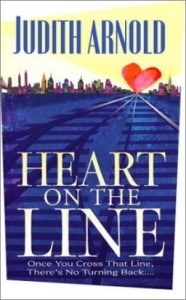 Still Available
Heart on the Line
Get set… for a roller-coaster ride of romance!
Long Island born and bred Loretta D'Angelo is a hip, savvy TV producer for a seriously fluffy New York daytime talk show. Josh Kaplan is a sexy thirtysomething lawyer for Manhattan's less fortunate, a devoted son who still mows his mother's lawn.
Josh and Loretta are just friends, because Josh has a girlfriend, Melanie–1,200 miles away in Florida. They're just friends when he agrees to become Loretta's "arranged" blind date for a ratings-boosting show. They're just friends when he pretends to be her boyfriend to get her marriage-obsessed family off her back. They're just friends when she visits the senior center where he plays chess. They're just friends when they fall into bed…and in love.
Now what? Will Josh break up with Melanie? Will Loretta let him? Sometimes, if you want something badly enough, you have to put your heart on the line, even if it means doing something a little crazy…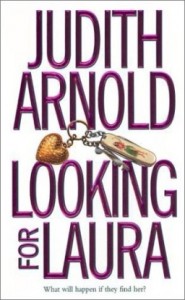 Still Available
Looking For Laura
Irrepressible widow Sally Driver, owner of a New Age coffee bar and mother of a sassy five-year-old, is trying to get on with her life. While packing up her late husband's clothes, she discovers a stack of letters—cloying, unbearably flowery love letters—from someone named Laura. Had Paul been sneaking out on her? She wants answers! Todd Sloane was Paul's best friends, but he doesn't know anything about this letter-writing Laura. When he reads her love notes, he feels even more betrayed than Sally. What kind of guy doesn't tell his closest buddy he's having an affair? Todd wants answers, too! Forging an uneasy alliance, Sally and Todd start looking for Laura—but somewhere along the way, their passion for those answers turns into an entirely different kind of passion. Suddenly Paul's flaky wife is the sexiest woman Todd's ever seen. And to her surprise, Sally finds Paul's straight-arrow pal simply irresistible. Now what? Do they let go of the past or keep searching for answers to questions that may no longer matter?