STILL KICKING
Lainie Lovett's passions, in no particular order, are her son and daughter, the fourth-grade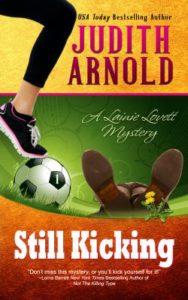 class she teaches, and the Rockettes, the recreational league women's soccer team in the sleepy Boston suburb of Rockford, Massachusetts.  When Lainie spots the husband of one of her Rockettes teammates canoodling with another woman under the electric jalapenos at El Camino Restaurant one night, she is discreet—until he turns up dead, shot with a nail gun in a half-built McMansion his construction company was developing.  Could his betrayed wife have killed him?  Or maybe his buxom girlfriend?  Or his alienated teenage son, who had once been a student of Lainie's?  Or maybe one of the anti-development environmentalists trying to shut down his business?  Or the hunky construction foreman who was always butting heads with him?
All Lainie wants to do is teach, make her gray hairs disappear and score against arch-rival Burlington in a soccer game—and maybe have a sex life, if that's not asking too much.  But once she becomes one of the Rockford Police Department's prime suspects in Arthur Cavanagh's murder, she'll have to clear her name before she'll ever be able to lace on her soccer cleats again.
Also available in paperback!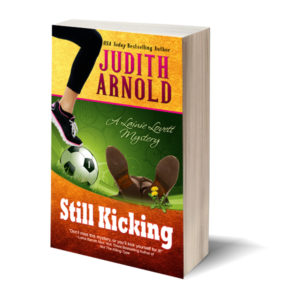 KICKBACK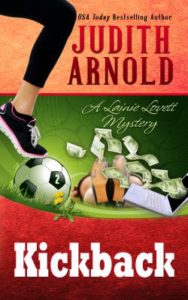 A huge sum of money has gone missing from the Hopwell School's parent-teacher organization. The evidence points to a ditzy school secretary, but when she dies abruptly, Lainie Lovett's colleagues turn to her to figure out where the money went. Did the secretary embezzle it before she died? Did one of the aggressive Super Moms who run the organization pocket the money? What's going on with the cute new gym teacher at Hopwell? And what's the deal with the secretary's husband and his odd hairdo? Most important, will Lainie survive long enough to find the money in time to save the Faculty Appreciation Luncheon?
Also available in paperback!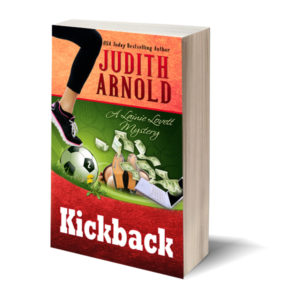 DROPKICK
The party celebrating Lainie Lovett's father-in-law's birthday gets exciting pretty quickly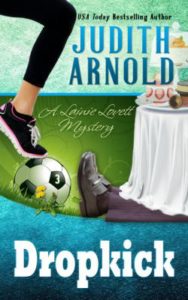 when one of the guests keels over just as the magnificent golf-themed birthday cake is being served. That he happens to be the most obnoxious guest at the shindig leaves the other guests less than shattered by his sudden passing. But when it's determined that he didn't die of natural causes, and a few of the guests, including the guest of honor himself, arouse suspicion, Lainie's in-laws ask her to step in and clear her father-in-law's name. Meanwhile, Lainie's daughter Karen, who has fallen madly in love with one of the waiters also under suspicion, needs Lainie to exonerate him, as well. In honor of her husband's memory, her daughter's love life, and that spectacular birthday cake, with its chocolate golf balls and candy clubs, Lainie must figure out who murdered the party guest—while trying to avoid getting clubbed, herself.
Also available in paperback!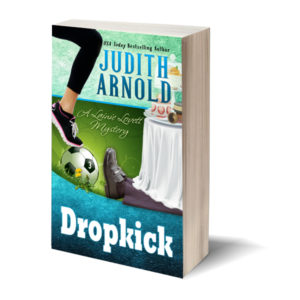 KICK THE BUCKET
Summertim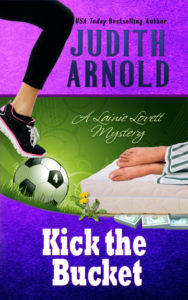 e, and the living should be easy. School's out, and Lainie Lovett is on vacation, spending her mornings running sports clinics for children and her evenings playing with the Rockettes. But things get a whole lot less easy when one of Lainie's teammates urges her to visit Sunrise Village, an assisted-living residence for the elderly, where various items have gone missing: a ring, a jewelry box, a bottle of prescription medicine…and George Vandercloop's considerable fortune, which he'd kept stuffed inside his mattress and which disappeared the night he died. Plenty of people at Sunrise Village had access to his apartment—his neighbors, the staff, his relatives, and the newly hired director of maintenance, who may just be the long-lost son of the Rockettes' distinctly un-motherly coach. Who stole George's money? And if he didn't die of natural causes, who killed him?
Lainie doesn't need another mystery to solve, but Sunrise Village needs Lainie. The place teems with romantic intrigue, rivalries, gossip, raptures over the dining room's chocolate cake—and possible crimes. Lainie will do her best to uncover the truth. But will she still be among the living when the assisted-living establishment is done with her?