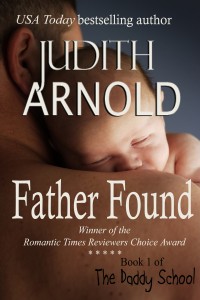 Father Found
Book One of the Daddy School Series
Jamie McCoy is the ultimate guy. His syndicated column, "Guy Stuff," keeps thousands of men in a macho frame of mind. But the day Jamie finds Samantha on his doorstep, his life changes drastically. Samantha is a baby and Samantha is a girl. Jamie knows nothing about babies and girls. More important, Samantha is his daughter, so he phones Allison Winslow, a nurse who runs the Daddy School, for advice. But when he actually meets Allison, he finds he wants much more than her assistance.


Father Christmas
Book Two of the Daddy School Series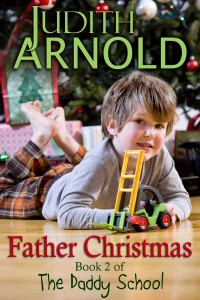 Police detective John Russo is responsible to a fault. When his girlfriend got pregnant, he married her. When she walked out on the marriage, he committed himself to raising their son himself. But when his baby-sitter has a family emergency and must fly to California, John's carefully rigged existence comes crashing down. He needs help, and fast. Molly Saunders co-founded the Daddy School to help men become better fathers. When it comes to learning the skills he needs to raise his son well, John is an A student. But Molly's lessons in love prove much more challenging.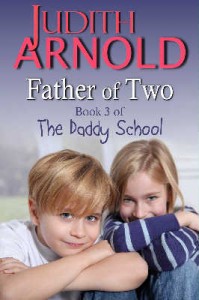 Father Of Two
Book Three of the Daddy School Series
Dennis Murphy's rambunctious seven-year-old twins swear he's the best lawyer in Arlington, Connecticut. They don't make his job easy, however. When the nanny he hires to watch the twins walks out on them one afternoon, Dennis is forced to bring his work home with him. A lawyer in the public defender's office, Gail Saunders agrees to represent a former client suing the city's newspaper for libel, even if it means going up against Murphy and his prestigious, wealthy law firm, and even if it means she has to deal with his wild children once their nanny goes AWOL. Being the sister of one of the founders of the Daddy School, Gail believes Murphy could use a few lessons in how to be a better father. But she's got a few things to learn, too, and Dennis Murphy might just be the man to teach her.
Fund manager Brett Stockton wants love, commitment, maybe even marriage—but no kids, period. Falling in love with photographer Sharon Bartell is easy. She's everything he could possibly want in a woman…except that she's the single mother of a two-year-old son. Can Brett learn to love Max? Or for both Max and Sharon's sakes, should he walk away?
When Levi Holt's single-mom sister dies and he learns he's the guardian of her six-month-old baby, he needs a crash course in fatherhood. Juggling child care with his demanding career as an architect, he has trouble conducting business with Corinne Lanier, who wants him to alter his design for her boss's new house. Corinne has no time or patience for a frazzled dad and a cranky baby—until both Levi and D.J. start working their magic on her. With love, lullabies and a few desperately needed classes at the Daddy School, Levi might figure out how to put the fragmented pieces of his life back together. But will there be room in it for Corinne? And can he be certain Corinne loves him for himself and not for his precious little baby?
A brand new Daddy School novella!
Widower Conor Malone wants Christmas to be joyous for his daughter. But Amy believes Santa is going to bring her mother back to her. How can Conor make the holiday bright for Amy when he can't give her the one gift she wants? With a little help from Eliza Powell, the new school psychologist—and the Daddy School.
Daddy's Girl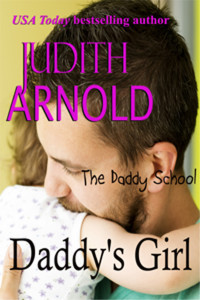 As a court-appointed guardian for Alix Medina, Hayley Baines has only one job: to represent the best interests of the little girl at the center of a difficult custody battle between the child's widowed father, Kevin Medina, and Kevin's in-laws. That Kevin is a working-class guy who runs a lawn service and the Porters are outrageously wealthy, able to provide Alix with everything she could ever want, doesn't influence Hayley. That Kevin is strong and sexy and irresistibly attractive shouldn't influence her. But how objective can she be when talking to him, gazing at him, simply being with him turns her on in a crazy way?
'Tis the Season
Billy and Gracie Myers don't believe in magic. Not even at Christmastime. They don't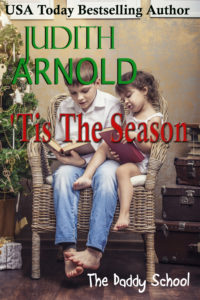 believe in ghosts. Not even when they discover a haunted house in the woods behind their home.
Filomena Albright lives in that house, and maybe, just maybe, she can bring a little magic into their lives—and their father's. Evan Myers is overworked and stressed out, steering his chain of sporting-goods stores through the hectic pre-holiday retail season while raising his young son and daughter single-handedly. He has no time to think, let alone think about the woman who has taken up residence in the mysterious house through the forest.
But when Gracie's preschool teacher warns Evan that he'd better get some help, he turns to the Daddy School—and Filomena. That she dazzles him with her intelligence, her energy, and her beauty is irrelevant. She'll be gone with the new year. For now, though, for these few weeks before Christmas, maybe she can be everything Evan and his children need her to be.
Christmas is a time of magic, after all.