Changes
Antiques dealer Diana Simms is engaged to her longtime boyfriend when she finds herself inside the Faulk Street Tavern. The song "Changes" emerges from the jukebox and enchants her. It also captivates Nick Fiore, a local guy who's arrived at adulthood the hard way, after a tour through the juvenile justice system. Now he's dedicated his life to helping other troubled kids. He has no business even looking at a beautiful, well-bred woman wearing a diamond engagement ring. But once they're bewitched by the jukebox, he and Diana must change their lives, their goals, their dreams…and their hearts.
True Colors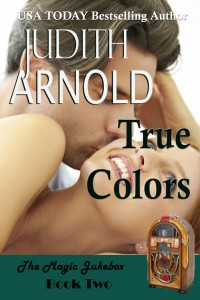 When she finds herself homeless after breaking up with her boyfriend, artist Emma Glendon accepts her best friend's invitation to share a rental house in Brogan's Point. But their absentee landlord, Nick Tarloff, has come to town from his home in San Francisco to sell the house, which will mean evicting his tenants. Nick is a high-tech brainiac and a self-made millionnaire. Emma is a painter and a free spirit. They have nothing in common—except the jukebox, which plays "True Colors" and forces them to recognize their own true colors, colors that can match and blend magnificently, if the magic of the jukebox has its way.
Wild Thing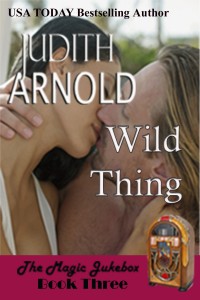 Monica Reinhart is a good girl. A hometown girl. After college, she returned to Brogan's Point to help run the family business, an oceanfront inn. She's never done a wild thing in her life. When Ty Cronin sails into town, his wildness intrigues her. When the jukebox plays "Wild Thing," that wildness infects her, and soon she finds herself doing things she never would have imagined. But Ty could be big trouble. She hardly knows him. She mustn't trust him. Yet once she's taken a walk on the wild side with him, how can she go back to being a good hometown girl?
Heat Wave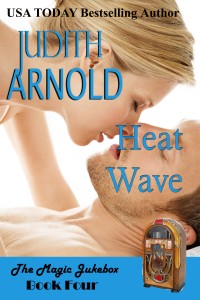 Caleb Solomon's office air conditioner is on the fritz. Although not his choice, he winds up meeting with a difficult but profitable client in the pleasant chill of the air-conditioned Faulk Street Tavern. It's there that high school teacher Meredith Benoit finds him. Due to a silly prank, her job and her reputation are in jeopardy. She needs a lawyer, fast. But the Magic Jukebox starts playing "Heat Wave," and a hot wave of passion crashes over Caleb and Meredith, catching them in its undertow and carrying them off.
Cory Malone and Talia Roszik married as teenagers after Talia became pregnant. Their marriage didn't last, but their love for their daughter did. Fifteen years after their divorce, Wendy Malone is graduating from high school, and Cory has traveled to Brogan's Point for the occasion. But Cory's and Talia's plans—and their emotions—are thrown into turmoil when they hear the Magic Jukebox play "Moondance." Can a single song make them forget all the hurt and rediscover the love that once brought them together?
Take the Long Way Home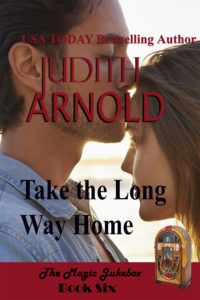 Maeve Nolan left Brogan's Point ten years ago in anger and pain, planning never to return. She hadn't known that Harry, her sweet, silver-haired friend, was a billionaire, but her unexpected inheritance from him lures her back to town. If she's going to remain, she will have to mend her tattered relationship with her father, Police Detective Ed Nolan, and his girlfriend, Gus Naukonen—the owner of the Faulk Street Tavern. She'll also have to deal with Quinn Connor, Brogan's Point's one-time golden boy, who's changed his life but can't escape the expectations the folks in town have of him. When the tavern's Magic Jukebox plays "Take the Long Way Home," it casts its spell on Maeve and Quinn. Can they find home in each other's arms?
Take the Long Way Home is part of The Inheritance Series, a collection of romances by bestselling authors, all based on Harold Hopewell's will and the effect his bequests have on his heirs. Check out all the books in The Inheritance Series.

A lot can change in six years. The last time Dylan Scott was in Brogan's Point, he was a nobody. Now he's rich and famous. But he still has memories of the charming seaside New England town where he'd spent one unforgettable night with Gwen Parker, a local shop clerk who'd wanted nothing more than a no-strings-attached fling. Six years later, she's still in town—only now she owns the shop. She's practically engaged to be married. And she's got a five-year-old daughter who looks an awful lot like Dylan.
One thing hasn't changed in Brogan's Point: the antique jukebox in the Faulk Street Tavern. It still plays oldies, and those oldies can still cast spells over the tavern's patrons. When the jukebox plays "Angel of the Morning," a plaintive ballad about love without commitment, Dylan and Gwen realize that walking away from what they'd once had might have been the biggest mistake of their lives. Now, six years later, is it too late to make things right?
The first six books of the Magic Jukebox novels are also available in two paperback editions.!
THE MAGIC JUKEBOX, Volume One at Amazon
THE MAGIC JUKEBOX, Volume One at Barnes & Noble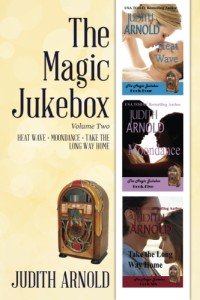 THE MAGIC JUKEBOX, Volume Two at Amazon