Well, not 100 romance novels. Three of my books are mysteries (including book #100, DROPKICK) and several are women's fiction. But I've received this lovely plaque for having published 100 NOVELS!
Just released: A new Magic Jukebox book!
Angel of the Morning
A lot can change in six years. The last time Dylan Scott was in Brogan's Point, he was a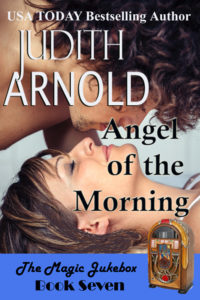 nobody. Now he's rich and famous. But he still has memories of the charming seaside New England town where he'd spent one unforgettable night with Gwen Parker, a local shop clerk who'd wanted nothing more than a no-strings-attached fling. Six years later, she's still in town—only now she owns the shop. She's practically engaged to be married. And she's got a five-year-old daughter who looks an awful lot like Dylan.
One thing hasn't changed in Brogan's Point: the antique jukebox in the Faulk Street Tavern. It still plays oldies, and those oldies can still cast spells over the tavern's patrons. When the jukebox plays "Angel of the Morning," a plaintive ballad about love without commitment, Dylan and Gwen realize that walking away from what they'd once had might have been the biggest mistake of their lives. Now, six years later, is it too late to make things right?
And another new release: Star-Crossed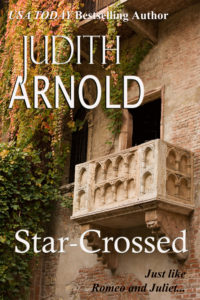 When Gillian Chappell and Owen Moore meet by chance in Verona, Italy, their relationship seems as doomed as that of the city's most famous tragic lovers, Romeo and Juliet. Little do Gillian and Owen know that the ghosts of Romeo and Juliet are guiding them, hoping to steer them to the happy ending Romeo and Juliet had dreamed of for themselves.
But like Shakespeare's hero and heroine, Gillian and Owen are star-crossed, forced to deal with historic feuds, meddlesome friends and relatives, and their own irrational longing for each other. From Verona, Italy to Verona, New Jersey, Owen fights for everything Gillian's family has always fought against, and Gillian tries to defend her beloved father while her heart cries out for Owen's love. Romeo and Juliet may have brought them together, but the stars alone will determine their fate.

Now available!
STILL KICKING (Book One)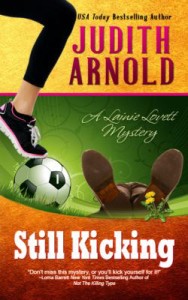 Widowed schoolteacher Lainie Lovett has three passions: her two nearly-grown children, her fourth-grade students at the Hopwell School, and the Rockettes, her recreational soccer team. One evening after soccer practice, she's startled to spot the husband of one of her teammates canoodling with another woman. She's even more shocked when he turns up dead the next day. And more shocked yet when she winds up under suspicion as an accessory to murder. But Lainie is smart and she's stubborn. She'll figure out who killed her teammate's husband—if she can stay out of jail, if she can stay alive, and if she can hang onto her sense of humor.
KICKBACK (Book Two)
A huge sum of money has gone missing from the Hopwell School's parent-teacher organization. The evidence points to a ditzy school secretary, but when she dies abruptly, Lainie's colleagues turn to her to figure out where the money went. Did the secretary embezzle it before she died? Did one of the aggressive super-moms who run the organization pocket the money? What's going on with the cute new gym teacher at Hopwell? And what's the deal with the secretary's husband and his odd hairdo? Most important, will Lainie survive long enough to find the money in time to save the Faculty Appreciation Luncheon?
DROPKICK (Book Three)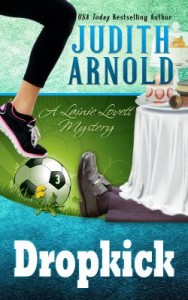 The party celebrating Lainie's father-in-law's seventy-fifth birthday gets exciting pretty quickly when one of the guests keels over just as the magnificent golf-themed birthday cake is being served. That he happens to be the most obnoxious guest at the shindig leaves the other guests less than shattered by his sudden passing. But when it's determined that he didn't die of natural causes, and a few of the guests, including the guest of honor himself, arouse suspicion, Lainie's in-laws ask her to step in and help clear her father-in-law's name. In honor of her husband's memory, and in honor of that spectacular birthday cake, with its candy clubs and chocolate golf balls, Lainie will try to save her father-in-law—and avoid getting clubbed, herself.


A magical, musical romance series
The Magic Jukebox sits in the Faulk Street Tavern in the quiet seaside town of Brogan's Point, Massachusetts. No one knows what classic rock songs will come out of the jukebox when a coin is inserted, but every now and then, the jukebox will play a song that casts a spell on two bar patrons—a song that will change their lives and open their hearts to love.
Now available — TAKE THE LONG WAY HOME

Book Six of the Magic Jukebox Series!
Billionaire Harold Hopewell traveled the world, encountering people and letting their stories touch him. In death, he is giving back, leaving an unusual will filled with life-altering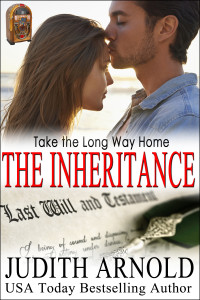 bequests to the people he met along the way.
Maeve Nolan left Brogan's Point ten years ago in anger and pain, planning never to return. She hadn't known that Harry, her sweet, silver-haired friend, was a billionaire, but her unexpected inheritance from him lures her back to town. If she's going to remain, she will have to mend her tattered relationship with her father, Police Detective Ed Nolan, and his girlfriend, Gus Naukonen—the owner of the Faulk Street Tavern. She'll also have to deal with Quinn Connor, Brogan's Point's one-time golden boy, who's changed his life but can't escape the expectations the folks in town have of him. When the tavern's Magic Jukebox plays "Take the Long Way Home," it casts its spell on Maeve and Quinn. Can they find home in each other's arms?
Take the Long Way Home is available now:
Take the Long Way Home is part of The Inheritance Series, a collection of romances by bestselling authors, all based on Harold Hopewell's will and the effect his bequests have on his heirs. Check out all the books in The Inheritance Series.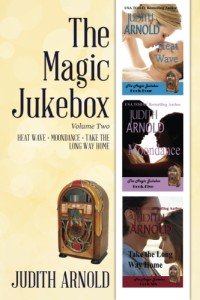 Learn more about the Magic Jukebox series here!
Also available now: THE MAGIC JUKEBOX, Volume Two. This paperback edition contains Heat Wave, Moondance, and Take the Long Way Home—books four through six of the Magic Jukebox series.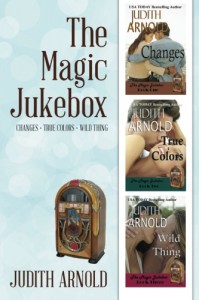 Don't forget , which includes the first three books in the Magic Jukebox series: Changes, True Colors, and Wild Thing.
Audiobooks! Audiobooks! Audiobooks!
To get one of my audiobooks for FREE, use the Audible link for the book on my website and sign up for a thirty-day trial Audible membership. If you go through the link on this page or in the Book Store, you can get the audiobook for FREE.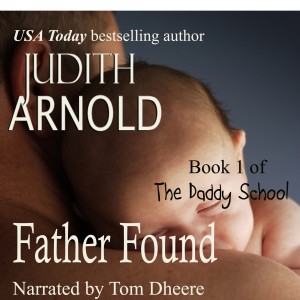 Father Found
Jamie McCoy is the ultimate guy. His syndicated column, "Guy Stuff," keeps thousands of men in a macho frame of mind. But the day Jamie finds Samantha on his doorstep, his life changes drastically. Samantha is a baby and Samantha is a girl. Jamie knows nothing about babies and girls. More important, Samantha is his daughter. He phones Allison Winslow, a nurse who runs the Daddy School, for advice. But when he actually meets Allison, he finds he wants much more than her assistance.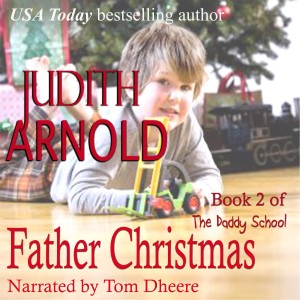 Father Christmas
Police detective John Russo is responsible to a fault. When his girlfriend got pregnant, he married her. When she walked out on the marriage, he committed himself to raising their son alone. But when his babysitter has a family emergency and must fly to California, John's carefully rigged existence comes crashing down. He needs help, and fast. Molly Saunders co-founded the Daddy School to help men become better fathers. When it comes to learning the skills he needs to raise his son well, John is an A student. But Molly's lessons in love prove much more challenging.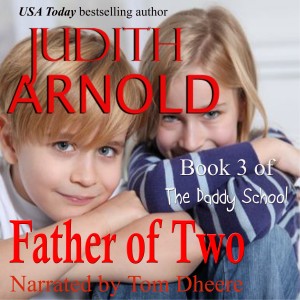 Father of Two
Dennis Murphy's rambunctious seven-year-old twins swear he's the best lawyer in Arlington, Connecticut. They don't make his job easy, however. When Gail Saunders's former client, a Russian immigrant who's had a few scrapes with the law, implores her to sue the city's newspaper for libel after his name appears in a front page article in connection with a series of thefts, she agrees to represent him, even if it means going up against Murphy and his prestigious, wealthy law firm, and even if it means she has to deal with his wild children after their nanny goes AWOL. Gail isn't the sort to become all warm and fuzzy around children. She's missing the maternal gene, and the romantic gene as well. Just because Murphy is smart and funny and sexy as hell doesn't mean she's going to fall for him. She knows his seductive charms are merely tactics in his effort to win the libel suit. She believes he could use a few lessons in how to be a better father—but she's got a few things to learn, too, and Murphy might just be the man to teach her.
Available at iTunes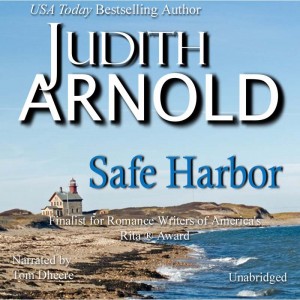 This best-selling, award-winning romance about friendship, loss, and the healing power of love, set on beautiful Block Island off the southern New England coast, is now available in a gorgeous unabridged audio edition, narrated by Tom Dheere.
How was the audio edition of SAFE HARBOR created? Watch this video chat between Judith Arnold and Tom Dheere, the voice artist who narrated the book!
Happy reading!
---
Come visit my Book Store!