At last! FATHER FOUND is here!
It took a while, but Father Found is now available in a new ebook edition. Winner of the Romantic Times Reviewers Choice Award when it first came out, Father Found was the first book in the original Daddy School trilogy. Books 2 and 3 of the trilogy, Father Christmas and Father of Two, have been available in ebook editions for a while, but now all three are here! The trilogy was so successful when it first came out that the Daddy School continued as a series. Somebody's Dad is one of the other books in the series. I'll let you know when more become available.
Amazon       Barnes & Noble       Kobo       iTunes     Smashwords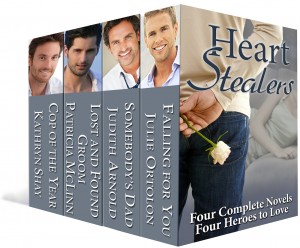 FOUR GREAT ROMANCES IN ONE FABULOUS PACKAGE!
What a treat! Four complete romance novels—Julie Ortolon's Falling for You, Patricia McLinn's Lost and Found Groom, Kathryn Shay's Cop of the Year and my own Somebody's Dad—in a boxed set, at a price that will make you swoon! Available now at all the major ebook outlets.
Amazon          Barnes & Noble          Kobo          Smashwords        iTunes
Holding Hands—A Brand-New novella!
Treat yourself to a tasty love story: Holding Hands is one of the launch titles at a new site called Lunch Hour Love Stories. Holding Hands is also available directly Amazon, Barnes & Noble, Smashwords, Kobo and iTunes.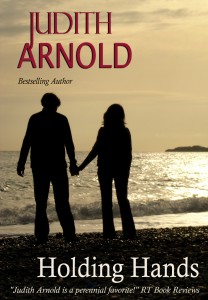 Meredith Fischer's widowed mother is starting a new romance. Her daughter is enjoying an exuberant social life. But Meredith's marriage is comatose and barely breathing. She still loves her sexy husband, but he doesn't see her, doesn't hear her, and may be involved with one of the cute young students at the college where he teaches. She can either pull the plug on her marriage or try to revive it, a hard choice to make when her insecurities, a fickle Mother Nature and a dog stand in her way.
WELCOME…
…to my new web site! Come on in. Take a look. Stroll around the grounds until you feel at home, as Paul Simon would say.
Some of you are already familiar with my work. I've been published since 1983, and I've written a lot of books over the years. Some of you may be new to me. Maybe you've picked up one of my ebook reissues. Maybe I'm a new-to-you author and you've decided to learn more about me.
Here's one of the most important things you can learn: I believe the ability to share stories is one of the most humanizing skills we've got going for us. Human beings communicate through stories. We share ourselves through stories. We express our needs and yearnings through stories. We make sense of the universe through stories.
I became a writer because forming stories—originally just in my mind, later on paper—helped me to comprehend the world around me. Some people are analytical. Some are scientific. Some think visually, some through sound. I think in words. Without them, I'd be lost.
This site will be a place where we can explore the power of words and stories. I'll talk about my writing. I'll let you know about my books—which ones are available, what they're about, where you can find them. Together, we'll celebrate the amazing beauty of stories.
Happy reading!
---
Come visit my Book Store!