The original Daddy School trilogy, now available in audiobook editions!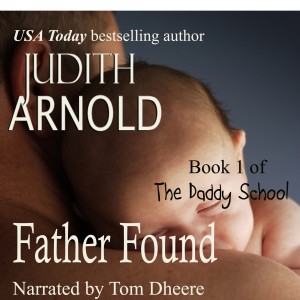 Father Found
Jamie McCoy is the ultimate guy. His syndicated column, "Guy Stuff," keeps thousands of men in a macho frame of mind. But the day Jamie finds Samantha on his doorstep, his life changes drastically. Samantha is a baby and Samantha is a girl. Jamie knows nothing about babies and girls. More important, Samantha is his daughter. He phones Allison Winslow, a nurse who runs the Daddy School, for advice. But when he actually meets Allison, he finds he wants much more than her assistance.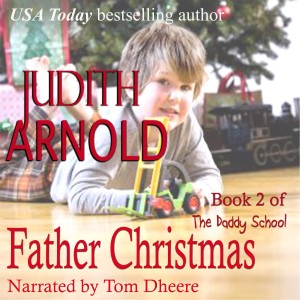 Father Christmas
Police detective John Russo is responsible to a fault. When his girlfriend got pregnant, he married her. When she walked out on the marriage, he committed himself to raising their son alone. But when his babysitter has a family emergency and must fly to California, John's carefully rigged existence comes crashing down. He needs help, and fast. Molly Saunders co-founded the Daddy School to help men become better fathers. When it comes to learning the skills he needs to raise his son well, John is an A student. But Molly's lessons in love prove much more challenging.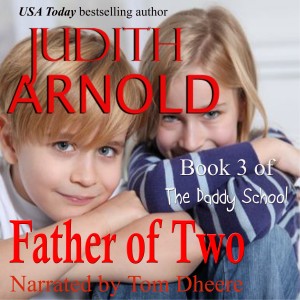 Father of Two
Dennis Murphy's rambunctious seven-year-old twins swear he's the best lawyer in Arlington, Connecticut. They don't make his job easy, however. When Gail Saunders's former client, a Russian immigrant who's had a few scrapes with the law, implores her to sue the city's newspaper for libel after his name appears in a front page article in connection with a series of thefts, she agrees to represent him, even if it means going up against Murphy and his prestigious, wealthy law firm, and even if it means she has to deal with his wild children after their nanny goes AWOL. Gail isn't the sort to become all warm and fuzzy around children. She's missing the maternal gene, and the romantic gene as well. Just because Murphy is smart and funny and sexy as hell doesn't mean she's going to fall for him. She knows his seductive charms are merely tactics in his effort to win the libel suit. She believes he could use a few lessons in how to be a better father—but she's got a few things to learn, too, and Murphy might just be the man to teach her.
A Brand-New Mystery!
DEAD BALL, book one of the Lainie Lovett Still Kicking mystery series
She's got to solve this murder. The soccer team's schedule depends on it.
So, who pulled the trigger of the nail gun that killed construction tycoon Arthur Cavanagh? His widow, who'd sworn to kill him if he ever cheated on her? His hostile teenage son, who felt neglected by his father? His foreman, who'd regularly fought with his boss? The angry environmentalists, protesting his latest development? Or the blond mystery woman who'd been seen with him the night of his death?
Lainie Lovett needs to find the culprit before the bumbling local police charge her with the murder. They're determined to pin it on her after she was caught snooping around the crime scene. All she wanted was information on behalf of the victim's wife, her friend Patty. After all, getting Patty off the suspect list was a friend's duty–not to mention that if Patty were charged, the Colonielles might lose her for an entire season.
Available at Amazon:    Kindle edition     Paperback edition
Available at Barnes & Noble: Nook edition     Paperback edition
Available at Kobo
This best-selling, award-winning romance about friendship, loss, and the healing power of love, set on beautiful Block Island off the southern New England coast, is now available in a gorgeous unabridged audio edition, narrated by Tom Dheere.
How was the audio edition of SAFE HARBOR created? Watch this video chat between Judith Arnold and Tom Dheere, the voice artist who narrated the book!
THE APRIL TREE
A tour de force about life, love, loss…and friendship.
Reach out, hold tight, stand up, move forward.
One life destroyed. Four others irrevocably shattered. A senseless accident causes the death of April Walden and plunges her three best friends and a young man into a devastating search for comfort, purpose, and inspiration. Becky wraps herself in a protective cloak of obsessions, performing anxious rituals at the base of the red maple tree under which April died. Elyse dives into a high-risk life, trying to honor April by doing everything April died too young to experience. Florie turns to fundamentalist Christianity as a wall that might shield her from reality. Mark spirals downward into substance abuse and self-loathing, until April's three friends find new meaning for their lives by trying to save him.
Happy reading!
---
Come visit my Book Store!