Now available: HOPE STREET
An award-winning contemporary romance about love, betrayal and forgiveness.
Curt an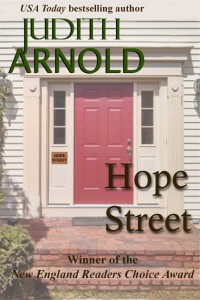 d Ellie fell in love as college students, in a grungy apartment on Hope Street. When Curt asked Ellie to marry him, he promised her that as long as they were together, they would always live on a metaphorical "Hope Street." And for many years, as they established a home and their careers and welcomed two daughters and a son into their lives, they did dwell in their own love-filled neighborhood of hope.
Then a tragedy shattered their family. Anguish drove Ellie into a world of darkness. Cut off from his wife, Curt found a way to heal without her. Exiled from Hope Street, they have decided to end a marriage that is already dead.
Unaware of their parents' plans for divorce, their children spring a surprise birthday party on Ellie, create a video of her life, and arrange for a romantic night for their parents at a charming country inn. As Curt and Ellie venture into that night together, they are forced to reconsider everything that once was so right between them, and everything that has gone so wrong. Is it possible that their love still exists? Can they ever forgive each other? Is it possible to return to Hope Street?
HOPE STREET won the New England Readers Choice Award, familiarly known as the "Beanpot Award," for the best long contemporary romance of the year.
Available at Amazon
Available at Barnes & Noble
Available at iTunes
Available at Kobo
Available at Smashwords
A Brand-New Mystery!
DEAD BALL, book one of the Lainie Lovett Still Kicking mystery series
She's got to solve this murder. The soccer team's schedule depends on it.
So, who pulled the trigger of the nail gun that killed construction tycoon Arthur Cavanagh? His widow, who'd sworn to kill him if he ever cheated on her? His hostile teenage son, who felt neglected by his father? His foreman, who'd regularly fought with his boss? The angry environmentalists, protesting his latest development? Or the blond mystery woman who'd been seen with him the night of his death?
Lainie Lovett needs to find the culprit before the bumbling local police charge her with the murder. They're determined to pin it on her after she was caught snooping around the crime scene. All she wanted was information on behalf of the victim's wife, her friend Patty. After all, getting Patty off the suspect list was a friend's duty–not to mention that if Patty were charged, the Colonielles might lose her for an entire season.
Available at Amazon:    Kindle edition     Paperback edition
Available at Barnes & Noble: Nook edition     Paperback edition
Available at Kobo
This best-selling, award-winning romance about friendship, loss, and the healing power of love, set on beautiful Block Island off the southern New England coast, is now available in a gorgeous unabridged audio edition, narrated by Tom Dheere.
How was the audio edition of SAFE HARBOR created? Watch this video chat between Judith Arnold and Tom Dheere, the voice artist who narrated the book!
THE APRIL TREE
A tour de force about life, love, loss…and friendship.
Reach out, hold tight, stand up, move forward.
One life destroyed. Four others irrevocably shattered. A senseless accident causes the death of April Walden and plunges her three best friends and a young man into a devastating search for comfort, purpose, and inspiration. Becky wraps herself in a protective cloak of obsessions, performing anxious rituals at the base of the red maple tree under which April died. Elyse dives into a high-risk life, trying to honor April by doing everything April died too young to experience. Florie turns to fundamentalist Christianity as a wall that might shield her from reality. Mark spirals downward into substance abuse and self-loathing, until April's three friends find new meaning for their lives by trying to save him.
Happy reading!
---
Come visit my Book Store!