KICK THE BUCKET is now available.
Summertime, and the living should be easy. School's out, and fourth-grade teacher Lainie Lovett is on vacation, spending her mornings running sports clinics for children and her evenings playing with the Rockettes, her recreation-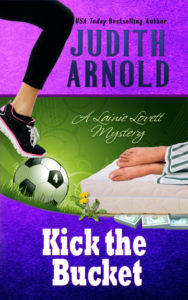 league soccer team. But things get a whole lot less easy when one of Lainie's teammates urges her to visit Sunrise Village, an assisted-living residence for the elderly, where various items have gone missing: a ring, a jewelry box, a bottle of prescription medicine…and George Vandercloop's considerable fortune, which he'd kept stuffed inside his mattress and which disappeared the night he died. Plenty of people at Sunrise Village had access to his apartment—his neighbors, the staff, his relatives, and the newly hired director of maintenance, who may just be the long-lost son of the Rockettes' distinctly un-motherly coach. Who stole George's money? And if he didn't die of natural causes, who killed him?
Lainie doesn't need another mystery to solve, but Sunrise Village needs Lainie. The place teems with romantic intrigue, rivalries, gossip, raptures over the dining room's chocolate cake—and possible crimes. Lainie will do her best to uncover the truth. But will she still be among the living when the assisted-living establishment is done with her?
Soon to be available in paperback!

Now available in paperback! STILL KICKING (Book One)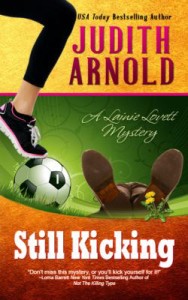 Widowed schoolteacher Lainie Lovett has three passions: her two nearly-grown children, her fourth-grade students at the Hopwell School, and the Rockettes, her recreational soccer team. One evening after soccer practice, she's startled to spot the husband of one of her teammates canoodling with another woman. She's even more shocked when he turns up dead the next day. And more shocked yet when she winds up under suspicion as an accessory to murder. But Lainie is smart and she's stubborn. She'll figure out who killed her teammate's husband—if she can stay out of jail, if she can stay alive, and if she can hang onto her sense of humor.
PAPERBACK EDITION
KICKBACK (Book Two)
A huge sum of money has gone missing from the Hopwell School's parent-teacher organization. The evidence points to a ditzy school secretary, but when she dies abruptly, Lainie's colleagues turn to her to figure out where the money went. Did the secretary embezzle it before she died? Did one of the aggressive super-moms who run the organization pocket the money? What's going on with the cute new gym teacher at Hopwell? And what's the deal with the secretary's husband and his odd hairdo? Most important, will Lainie survive long enough to find the money in time to save the Faculty Appreciation Luncheon?
PAPERBACK EDITION
DROPKICK (Book Three)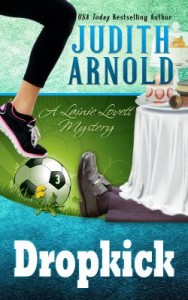 The party celebrating Lainie's father-in-law's seventy-fifth birthday gets exciting pretty quickly when one of the guests keels over just as the magnificent golf-themed birthday cake is being served. That he happens to be the most obnoxious guest at the shindig leaves the other guests less than shattered by his sudden passing. But when it's determined that he didn't die of natural causes, and a few of the guests, including the guest of honor himself, arouse suspicion, Lainie's in-laws ask her to step in and help clear her father-in-law's name. In honor of her husband's memory, and in honor of that spectacular birthday cake, with its candy clubs and chocolate golf balls, Lainie will try to save her father-in-law—and avoid getting clubbed, herself.
PAPERBACK EDITION

Well, not 100 romance novels. Four of my books are mysteries (including book #100, DROPKICK) and several are women's fiction. And I've passed the 100-novel mark with the release of a few new books. But I received this lovely plaque for having published 100 novels!
And cool things happen when word gets out that you've published that many books. I've recently been inducted into my high school's Hall of Fame! I'm a proud alumna of Bethpage High School on Long Island, and I was greatly honored to be chosen for this recognition. Here I am at the induction ceremony, with my beautiful Golden Eagle statue!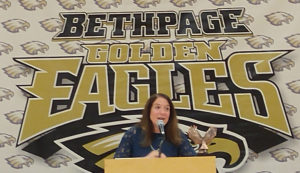 Audiobooks! Audiobooks! Audiobooks!
To get one of my audiobooks for FREE, use the Audible link for the book on my website and sign up for a thirty-day trial Audible membership. If you go through the link on this page or in the Book Store, you can get the audiobook for FREE.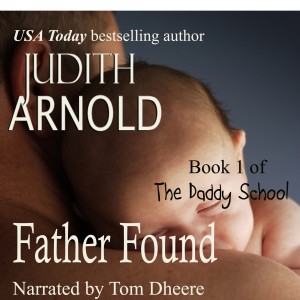 Father Found
Jamie McCoy is the ultimate guy. His syndicated column, "Guy Stuff," keeps thousands of men in a macho frame of mind. But the day Jamie finds Samantha on his doorstep, his life changes drastically. Samantha is a baby and Samantha is a girl. Jamie knows nothing about babies and girls. More important, Samantha is his daughter. He phones Allison Winslow, a nurse who runs the Daddy School, for advice. But when he actually meets Allison, he finds he wants much more than her assistance.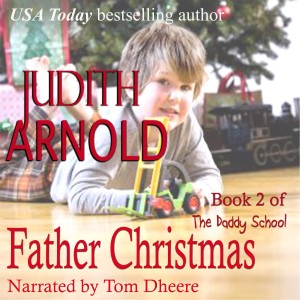 Father Christmas
Police detective John Russo is responsible to a fault. When his girlfriend got pregnant, he married her. When she walked out on the marriage, he committed himself to raising their son alone. But when his babysitter has a family emergency and must fly to California, John's carefully rigged existence comes crashing down. He needs help, and fast. Molly Saunders co-founded the Daddy School to help men become better fathers. When it comes to learning the skills he needs to raise his son well, John is an A student. But Molly's lessons in love prove much more challenging.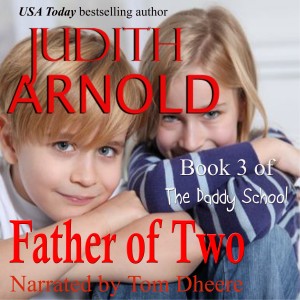 Father of Two
Dennis Murphy's rambunctious seven-year-old twins swear he's the best lawyer in Arlington, Connecticut. They don't make his job easy, however. When Gail Saunders's former client, a Russian immigrant who's had a few scrapes with the law, implores her to sue the city's newspaper for libel after his name appears in a front page article in connection with a series of thefts, she agrees to represent him, even if it means going up against Murphy and his prestigious, wealthy law firm, and even if it means she has to deal with his wild children after their nanny goes AWOL. Gail isn't the sort to become all warm and fuzzy around children. She's missing the maternal gene, and the romantic gene as well. Just because Murphy is smart and funny and sexy as hell doesn't mean she's going to fall for him. She knows his seductive charms are merely tactics in his effort to win the libel suit. She believes he could use a few lessons in how to be a better father—but she's got a few things to learn, too, and Murphy might just be the man to teach her.
Available at iTunes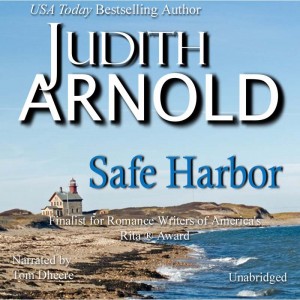 This best-selling, award-winning romance about friendship, loss, and the healing power of love, set on beautiful Block Island off the southern New England coast, is now available in a gorgeous unabridged audio edition, narrated by Tom Dheere.
How was the audio edition of SAFE HARBOR created? Watch this video chat between Judith Arnold and Tom Dheere, the voice artist who narrated the book!
Happy reading!
---
Come visit my Book Store!